Round-up of various Adam-related articles, pics and vids:
Interesting article
in the New York Times about American Idol, the show, its place in pop culture, and characterizing Adam and Kris as a young Elvis Presley and Pat Boone, respectively.
New York Times review of final
New York Times analysis of singing on Idol finale
and significance of Kris' win. Not an Adam fan here.
afterelton.com
grading all of Adam's outfits.
They hated the long coat in the finale. I adored it!
Adam to be new Queen singer?
Brian May responds to rumors.
Rolling Stone post-finale interview with Adam
, in which he says his favorite performance was Whole Lotta Love, talks about what kind of debut album he'd like to make ("a collection of different styles"), and says speculation about his sexuality "probably" impacted the final vote. However, he felt like he won just by making it into the finals and that "there's no need to dwell on the negative."
Dorothy Surrenders'
take on Adam's loss. I don't know how much of a factor Adam's sexuality was. That's very hard to say. I don't know the demographics of the voters or if they really care about that or not. But I kind of identified with what she says here, on some level.
Ann Powers, L.A. Times pop music critic,
interesting review of final performances.
Powers writes intriguing articles on pop culture.
Powers also has

analysis
of the larger meaning of Adam and Kris' friendship.
From Entertainment Weekly's post-finale interview with Mr. Oh-so-coy:
I want to just get this question out of the way first, something that's been dangling a bit over you for the whole season: Would you like to put to rest all the speculation about your sexuality?

It's not dangling over my head. [Laughing] It may be dangling over yours, but it's not over mine. Yeah, I think speculation keeps things really interesting.

So you don't want to say anything one way or the other?

Like I said, I think speculation keeps things very, very interesting. [Laughs]
Incredibly cute Adam/Kris moment:
ROCK GOD!!!
I think he looks like he belongs with these guys. (Although I prefer Queen.)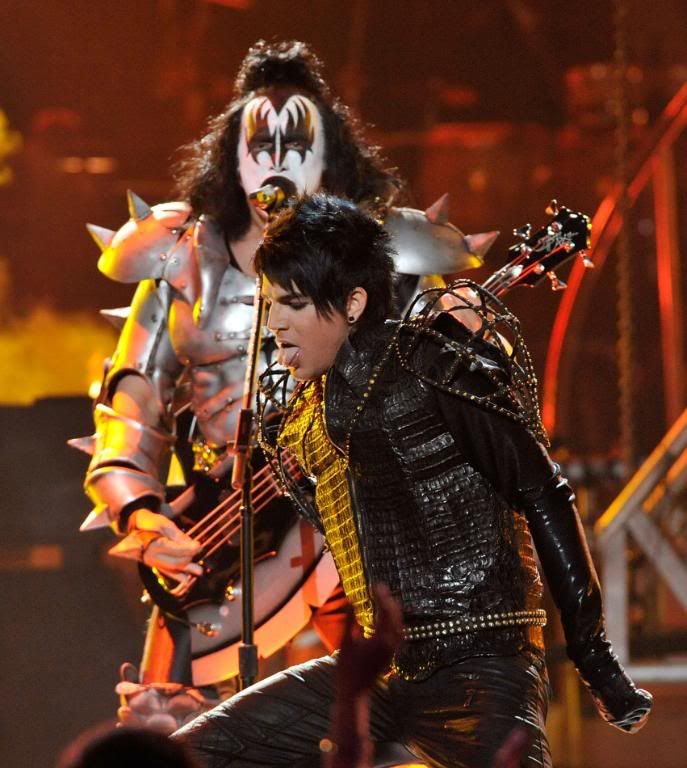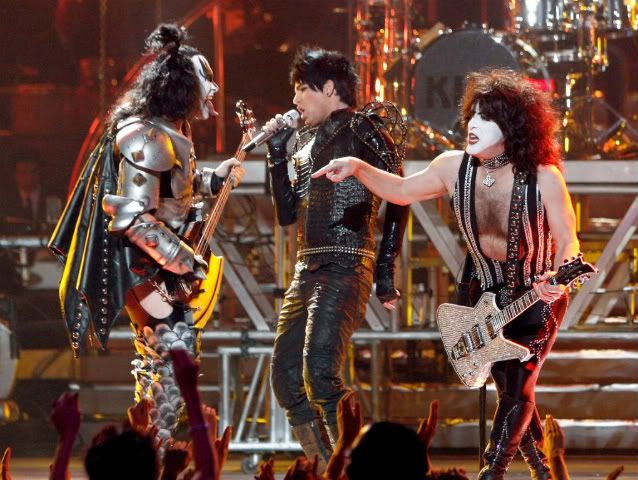 Why, yes, those
are
handcuffs!
Let's do some speculating (LOL):