Going on a fandom pilgrimage to the New York Comic Con this weekend. Known to normal people as a comic book convention, these events have morphed into so much more. Branching out from traditional comic books, they now include graphic novels, sci fi and fantasy, with a requisite contingent of attendees dressed as their favorite superhero, scifi, or anime characters. They've become magnets for movie and TV promotion, especially for anything remotely scifi or fantasy-related. One participant describes it as
"a marriage between Cannes and Sundance - but with a touch of freak parade"
. (Fernanda Cohen in Design Arts Daily). I'm going primarily to attend a panel on Torchwood (see sidebar) with cast members and the director of the next series, as well as a couple of other TV panels (e.g. Fringe). I wish I could go to the panel on Dollhouse with Joss Whedon, but it's at the same time as Fringe. We'll see.
PopWatch blog on what not to miss at NY Comic Con
Website for New York Comic Con
Photo by tancread on Flickr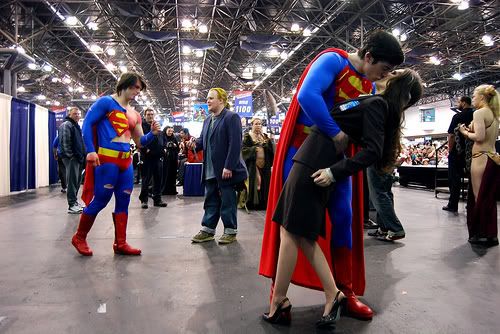 Photo by Del Far on Flickr